Devin C. Fisher, DDS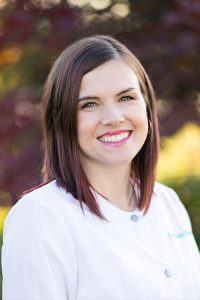 Our dental practice has always been about family and community. My late father, Dr. Michael Fisher, founded the dental practice in 1987, and my mother did the paperwork and bookkeeping. I would come to the dental office after school to do my homework before we headed home for dinner or soccer practice. I learned the value of hard work and honest, caring concern for others from my parents and continue to follow their example. I met my husband, Zack, in dental school, and he joined our practice in 2010; I'm lucky to share both my work and home life with such a great guy.
My focus is on people, not just their teeth. My goal is to provide you and your family with a positive, pain-free dental experience. I will listen to what you have to say to better understand how best to be of service to you. My mission is to help you maintain your healthy smile for your lifetime.
Education
2000 – South Kitsap High School
2004 – University of Washington – Bachelor of Science, Microbiology
2004 – University of Washington – Bachelor of Science, Biochemistry
2008 – University of Washington School of Dentistry – Doctor of Dental Surgery
Continuing Education
Dentistry is always changing, and I believe that my dental education will be continuously ongoing. Part of my job is to stay current with dental materials and procedures so that I can better serve my patients.
2012 – Intraoral Massage as treatment for Temporomandibular Joint Dysfunction (TMD)
2011/2012 – Las Vegas Institute for Dental Study – Core I through Core V – These were hands-on clinic courses where I brought one of my patients with me for advanced cosmetic techniques and smile rehabilitation.
2009/2011 – CEREC® Advanced training for computer scanning and mapping of single tooth crown preparations for in-office crown milling and same-day delivery
Silverdale Implant Study Club, Esthetic Implant Dentistry, Gig Harbor Endodontics Study Club, West Sound CEREC® Study Club
Professional Memberships
American Dental Association®
Academy of General Dentistry
American Academy of Cosmetic Dentistry
Washington State Dental Association
Kitsap County Dental Society
In the Community
I am a volunteer with the AACD's Give Back a Smile program, which puts victims of domestic violence together with dentists to restore their smile and give them back their self-esteem. I have also volunteered with Kitsap's Stand Down Program to help veterans in need of dental care and with the armed forces readiness program performing dental screenings.
Outside the Office
I'm happy living in my hometown surrounded by my family and friends. I've discovered a love for triathlons and have been trying to improve my skills at running, biking and swimming — I completed my 1st Ironman in Whistler, BC, in 2013. I play recreational soccer with my husband and friends and enjoy snowboarding in the winter. I also love to read, play board games and paint.