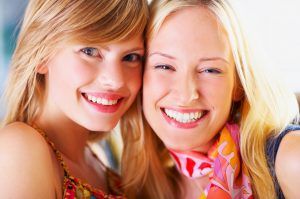 While silver metal fillings have been used in dentistry for many years, there is now some question about using this material — it is actually banned in some countries. While some dental offices continue to place metal fillings, there is no amalgam (mercury) used in our practice.
Today's dental fillings in our office include porcelain and composite resin compounds that mimic the appearance of natural teeth and will make you forget that you even have a restoration on your tooth (it is nearly invisible). Your tooth-colored restoration will not only look great, but it is much better for your tooth and surrounding tissue. Unlike amalgam metal restorations that expand and contract, like all metal does, a restoration bonded to your tooth structure supports the tooth, making it stronger.
It is common to experience some sensitivity to hot and cold after placement of the restoration. This is usually due to the treatment process and is only temporary. If the restoration feels like it is too high to your bite, please let us know so it can be adjusted. These restorations have been relatively problem free, but please let us know if you experience any problems or sensitivity with yours.
Porcelain restorations (inlays/onlays) are considerably more costly than composite resin fillings but keep more natural tooth structure than a crown.
What Type of Dental Filling Is Right for Me?
There are two basic types of dental fillings, direct and indirect.
Direct fillings are fillings placed immediately into a prepared space in a single visit. Your dentist will prepare your tooth by removing any decay or compromised tooth structure then place the composite resin filling and adjust your bite during one appointment.
Indirect fillings (Inlays / Onlays) generally require two or more visits. During the first visit, your dentist will prepare your tooth by removing any decay or compromised tooth structure and take an impression of the area to be restored. A temporary covering is placed over the prepared tooth while our dental laboratory creates your custom restoration. At the next appointment, your dentist cements this custom-made restoration into the prepared space and adjusts your bite as needed.
Several factors influence the performance, durability, longevity and expense of dental restorations:
The components used in the filling material
The amount of tooth structure remaining
Where and how the filling is placed
The chewing load that the tooth will have to bear
The length and number of visits needed to prepare and adjust the restored tooth
For more information about how restorative dentistry can help repair your teeth and restore your oral health, we welcome your call at 360-876-0445 or visit to Fisher Distinctive Dentistry in Port Orchard, Washington, where Dr. Devin Fisher and Dr. Zack Bergevin look forward to helping you maintain a healthy smile!