What Is Digital Radiography?
Digital X-rays are the diagnostic tool we use to view below your gum line as well as inside and between your teeth. Digital radiography uses digital sensors which place the digital image directly into your digital chart, rather than using traditional photographic film. We use these high-quality images of your teeth, bone and surrounding structures to detect and diagnose dental problems such as: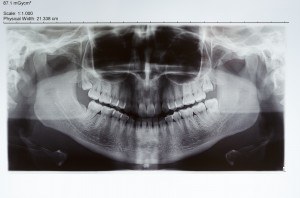 Tooth decay between teeth
Bone loss
Fractures in existing dental fillings
Abscesses and cysts
Developmental abnormalities
Tumors
Infection in the tooth nerve
We also use digital radiography to assess dental trauma and plan certain dental treatments such as implants and root canals.
What Are the Benefits of Digital Radiography?
Digital dental X-rays have many advantages over traditional X-rays. Digital X-rays provide us with images that are of better diagnostic quality but with up to 90% less exposure to radiation! The images are instantly viewable, and Dr. Devin Fisher and Dr. Zachary Bergevin can easily expand the images for better evaluation. In addition, the process of taking digital X-rays is faster and more comfortable than that of traditional dental X-rays.
To learn more about the benefits of digital dental X-rays, we welcome you to call 360-876-0445 or visit Fisher Distinctive Dentistry in Port Orchard, Washington, where Dr. Devin Fisher and Dr. Zack Bergevin look forward to helping you maintain a healthy smile!