What Are Veneers?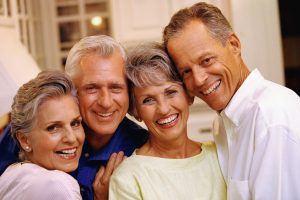 Veneers are thin, custom-made shells hand crafted of tooth-colored porcelain-ceramic materials. The purpose of a veneer is to correct the appearance of teeth that are stained, discolored, badly shaped, chipped or crooked. Veneers are designed to cover the front side of your teeth, and because they are so thin, only a small amount of tooth structure needs to be removed to make room for the veneer.
Once bonded in place, porcelain-ceramic veneers are as strong as your natural teeth, but like your natural teeth, they can chip or break if abused. We recommend that you avoid certain things that would damage even natural tooth structure, such as biting ice, fingernails, hard candies, chicken bones or rib bones.
Cosmetic dentistry is generally used to refer to any dental work that improves the appearance (though not necessarily the function) of a person's teeth, gums and/or bite. Today cosmetic and restorative dentistry often go hand in hand. For example, we may combine an implant crown to replace missing front teeth with veneers on other front teeth to improve the overall smile design. We have also used a combination of limited orthodontics, implants, fillings and crowns to improve the appearance of our patient's smile.
We evaluate each patient on a case by case basis, recommending the best possible treatment while explaining any alternatives. Our goal with any smile enhancement is to maintain as much of the natural tooth structure as possible, taking into account the patient's overall occlusal and restorative health, because when creating beautiful smiles, it is essential that they also function properly.
Not only is it rewarding for our patients, but we also enjoy the feeling we receive when we help to improve someone's smile and, in some small way, enhance their life. All of our team members are well-trained, experienced, friendly and caring, and you will be treated with kindness and a service of excellence.
Caring for Your Porcelain-Ceramic Veneers
Grinding: If you grind or clench your teeth, we may recommend that you have a night guard made to protect your veneers and your natural teeth. This is particularly important if your veneers were placed to lengthen your teeth.
Brushing: Always use a soft toothbrush and avoid abrasive toothpastes such as baking soda or "smokers" toothpaste. These toothpastes have abrasive components that can scratch and damage your new veneers, as well as your natural teeth. Remember that regular check-ups are vital in ensuring that your veneers are functioning ideally and that they are being maintained properly.
Fluoride: Do not use stannous fluoride or acidulated phosphate fluoride products with your restorations. If fluoride treatments are recommended to you, make sure that it is a neutral sodium fluoride.
Roughness: If you feel a rough edge on your veneers, be certain not to pick at it. Call the office to have the doctor smooth the area.
We feel very confident about the longevity of the restorations we place. In the unlikely event that one of your veneers or porcelain crowns should chip or crack, it would be replaced free of charge for up to five years, as long as you have maintained your recommended check-up and cleaning appointments.
Both Dr. Devin Fisher and Dr. Zack Bergevin have had extensive post-graduate training in the art and science of smile design at the prestigious Las Vegas Institute for Advanced Dental Studies. To learn more about how veneers can improve the health, function and beauty of your smile, we welcome your call at 360-876-0445 or visit to Fisher Distinctive Dentistry in Port Orchard, Washington.