Zachary D. Bergevin, DDS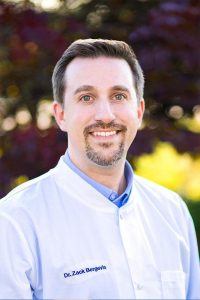 I want to make your dental experience very positive and stress free. In terms of beauty and complexity, dentistry today is light-years ahead of where it was ten, twenty or thirty years ago. My goal is to match that technological advance with an equal advance in empathy, compassion and comfort. I encourage you to let me get to know you and become your partner on a journey to a lifetime of dental health.
Education
2005 – University of Puget Sound – Bachelor of Science, Biology
2009 – University of Washington School of Dentistry – Doctor of Dental Surgery
Continuing Education
I participate in numerous continuing education opportunities, including ongoing training at the world-renowned Las Vegas Institute, as well as a two-year orthodontic program through Progressive Orthodontics. I am involved in the Silverdale Implant Study Club, as well as various other classes ranging from periodontics to endodontics.
Professional Memberships
American Dental Association
Washington State Dental Association
Kitsap County Dental Association
Academy of General Dentistry
American Academy of Cosmetic Dentistry
In the Community
I have assisted with the American Academy of Cosmetic Dentistry's Give Back a Smile program, which puts victims of domestic violence together with dentists to restore their smiles and give them back their self-esteem.
Outside the Office
I was born and raised in Yakima, Washington, where my dad was a high school history teacher and my mom worked in the office of an elementary school. My last name is pronounced Berj-a-vin, and I've been told that in French it means "wine barge." I met my wife, Devin, in dental school and followed her back to Port Orchard, where we now practice dentistry together. I spend quite a bit of time reading about the latest advances in dentistry, but when I'm not doing that, I enjoy playing soccer, running, swimming, playing board or card games, and watching movies.