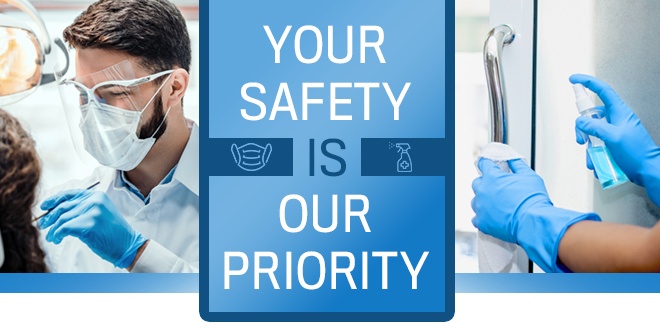 Welcome back! We have been officially sanctioned to resume "normal" operations but some of our protocols will be different as we work to keep everyone safe from the COVID-19 virus.
The dental office should be the cleanest place you visit in a day. We continue to use the most up-to-date cleaning and sterilization techniques as well as follow all CDC and American Dental Association guidelines.
OUR SAFETY MEASURES
We are conducting paperless pre-visit screenings for all patients with upcoming appointments.
Our staff are up-to-speed on COVID-19 symptoms and utilize recommended Personal Protective Equipment (PPE).
We ask that everyone wear a mask when entering our healthcare facility.
We ask that all patients use the hand sanitizer provided at the front counter upon entering. It will also be available in other areas of the office.
We are limiting our reception room to the day's scheduled patients ONLY. Please do not bring others to your appointment.
Only patients, or patients plus one pre-screened critical caregiver, are allowed into an appointment.
Our office provides individual treatment rooms which limits the likelihood of cross-contamination between patients.
A pre-treatment temperature scan will be taken prior to any procedure.
We have installed True HEPA air purifiers in each room to ensure that the air is the cleanest air you will breathe that day.
All flyers, magazines, brochures, toys, etc. have been removed.
We have implemented digital tools for check-in as well as contactless payment methods to reduce germ spread.
As always, our main concern is the safety and well-being of our patients and staff. If you have any questions or concerns, contact Fisher Distinctive Dentistry at 360-876-0445 any time. To request an appointment with our doctor, Dr. Devin Fisher please click below.
We look forward to seeing you soon!
Fisher Distinctive Dentistry